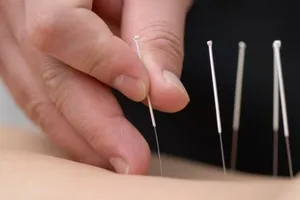 Dr. McClain is Board Certified in Meridian Therapy (Acupuncture)
Acupuncture is an ancient Chinese medicine used to alleviate pain and promote overall health. Acupuncture uses needles placed along invisible meridians that run throughout the body. Today, acupuncturists also use lasers, acupressure, magnets and electric pulses in addition to needles. Each meridian point has a specific meaning and can unblock and repair meridians and channels with vital energy or chi. Through the stimulation of the meridians, an acupuncturist is able to restore balance and health to the patient.
To also help diagnose problems using acupuncture principles, we use the expertise of other doctors through the ACUGRAPH . This software finds points in the body that are weak by testing points on your fingertips and toes. A spreadsheet is printed out that demonstrates the points that need to be addressed. By returning to our office with this graph we can treat specific points for a period of time then go back to see if these points have improved. This is a wonderful way of experiencing the effects that acupuncture can have on the body. There are specific points that do relate to problems that we can address without using the graphing system.