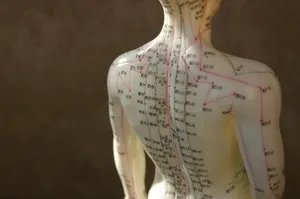 The art of acupuncture has taken thousands of years to develop and test.  Many patients compliment acupuncture with other therapies such as chiropractic care, massage, physical therapy and more.  This Chinese therapy is all natural and allows the body to repair itself with help from stimulating specific acupoints.  Acupuncturists believe in the importance of vital energy and it is this energy which helps to restore the energetic balance in the body.  When this balance is disturbed, patients are likely to feel sick or have pain.
Many times Dr. McClain starts by balance the body by needling or using acupressure on " master points " that are located in the legs and arms. This can be a good start to getting the body "organized" before treatment begins.
There are a couple Chiropractic Acupuncturists that Dr. McClain will refer to for what is called an Acu-Graph. This is a computerized test to read specific points in the body that are weak and need treatment. This can sometimes lead to less needle usage and more specificity in diagnosis. Those doctors then refer the patient back to Dr. McClain for treatment with the readout.